Quebec Siberian
Welcome to Quebec Siberian!
We are the proud owners of a Siberian Cat cattery established near Quebec City. Our kittens are very sociable because they live freely with us in constant contact with our children and our dog. Our breeders are imported from renowned cattery in Russia and Europe. All our kittens are TICA registered.
Siberian was a natural choice for us because in our family there are 3 major allergic. As the Siberian had the reputation of being hypoallergenic, we chose this breed for that characteristic. In fact, my husband and my children have no allergic reaction to the Siberian. Do not assume that everyone reacts the same way but the best ways to find out is to test it.Since that time, we decided to expand our family and to enjoy this beautiful feline breed with other people like you.
The Stars of Siberian Quebec
Les Stars de Sibérien Québec - Juin 2017
You will find the kittens available on the following link: Available Kittens
I strongly advice you to read the Siberian History section that will allow you to know more about this beautiful cat breed.
If you like the purr, hugs and small furry animals, you are at the right place!
When we have kittens available, we will send a newsletter to those who are registered. So if you are interested in adopting a Siberian kitten, sign up for our newsletter to be the first informed of availability. You can do this by entering your email address in the newsletter section.
For more information about our Siberians and Contact us.
Click the Icon to reach me on Facebook
Here is an X-ray performed on Ivoire
The poor mom! The first kitten to born was blocking the exit of others. We had to get her a surgery and finally we decided to have her sterilized for her well being. She really had a lot of contraction and very strong one. Subsequently she made a allergy to the clip and caesarean scar was infected. She therefore had to be on antibiotics and lost a lot of weight. Luckily, Irys, his sister helped her with kittens and became an adoptive mom. This is Irys who breastfeed kittens with my help with milk bottle of course. I sent Ivoire with my cousin house so that she gets as she wept when she heard his kittens. She is so well integrated that now she is attached to their new born and now lives happily there in well-deserved retirement.
The good news is that we have saved all the other little kittens.
Here is the X-Ray, Guess how many kittens were there ? Have a good countdown!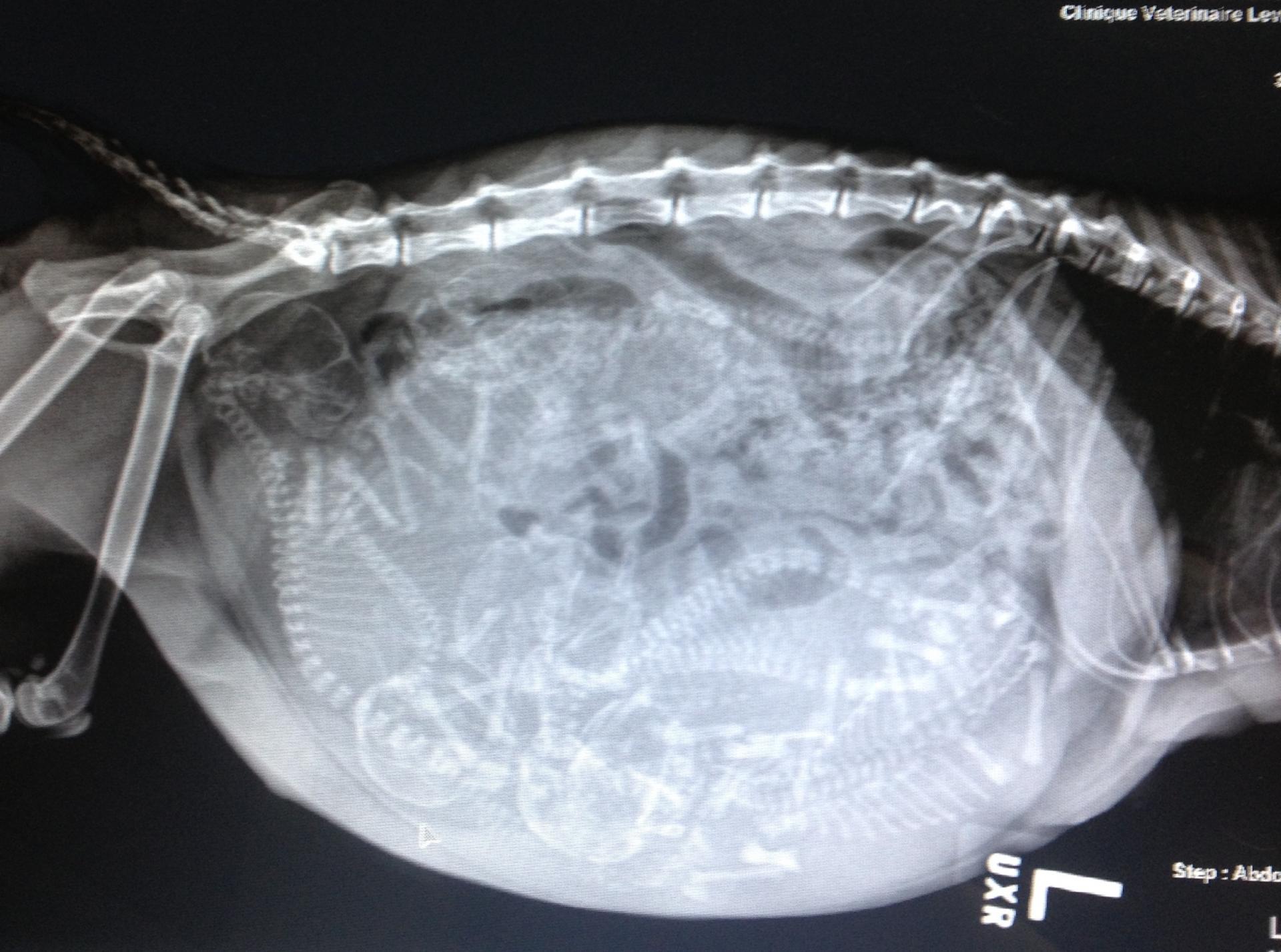 Total
219165 visitors - 707275 pageviews
Abyssinian, Aegean, American Curl, American Bobtail, American Shorthair, American Wirehair, Arabian Mau, Australian Mist, Asian, Asian Semi-longhair, Balinese, Bambino, Bengal, Birman, Bombay, Brazilian Shorthair, British Semi-longhair,British Shorthair, British Longhair, Burmese, Burmilla, California Spangled, Chantilly-Tiffany, Chartreux, Chausie, Cheetoh, Colorpoint Shorthair, Cornish Rex ,Cymric, Manx Longhair, Cyprus, Devon Rex, Donskoy, Don Sphynx, Dragon Li, Dwarf cat, Dwelf, Egyptian Mau, European Shorthair, Exotic Shorthair, Foldex, German Rex, Havana Brown, Highlander, Himalayan, Colorpoint Persian, Japanese Bobtail, Javanese, Karelian Bobtail, Khao Manee, Korat, Korean Bobtail, Korn Ja, Kurilian Bobtail, kuril Islands Bobtail, LaPerm, Lykoi, Maine Coon, Manx, Mekong Bobtail, Minskin, Munchkin,Nebelung, Napoleon, Norwegian Forest cat, Ocicat, Ojos Azules, Oregon Rex, Oriental Bicolor, Oriental Shorthair, Oriental Longhair, PerFold, Persian,Modern Persian Cat, Persian,Traditional Persian Cat, Peterbald, Pixie-bob, Raas, Ragamuffin, Ragdoll, Russian Blue, Russian White,
Russian Black, Russian Tabby, Sam Sawet, Savannah, Scottish Fold, Selkirk Rex, Serengeti, Serrade petit, Siamese, Siberian, Singapura, Snowshoe, Sokoke, Somali, Sphynx, Suphalak, Thai, Thai Lilac, Tonkinese, Toyger, Turkish Angora, Turkish Van, Ukrainian Levkoy, York Chocolate
Toronto, Montreal, Calgary, Ottawa, Edmonton, Mississauga, Winnipeg, Vancouver, Brampton, Hamilton, Quebec, City, Surrey, Laval, Halifax, London, Markham, Vaughan, Gatineau, Saskatoon, Longueuil, Kitchener, Burnaby, Windsor, Regina, Richmond, Richmond Hill, Oakville, Burlington, Greater, Sudbury, Sherbrooke, Oshawa, Saguenay, Lévis, Barrie, Abbotsford, Coquitlam, Trois-Rivières, St. Catharines, Guelph, Cambridge, Whitby, Kelowna, Kingston, Ajax, Langley, Saanich, Terrebonne, Milton, St. John's, Thunder Bay, Waterloo, Delta, Chatham-Kent, Red Deer, Strathcona, County, Brantford, Saint-Jean-sur-Richelieu, Cape Breton, Lethbridge, Clarington, Pickering, Nanaimo, Kamloops, Niagara Falls, North, Vancouver, Victoria, Brossard, Repentigny, Newmarket, Chilliwack, Maple, Ridge, Peterborough, Kawartha Lakes, Drummondville, Saint-Jérôme, Prince George, Sault Ste. Marie, Moncton, Sarnia, Wood, Buffalo, New Westminster, Saint John, Caledon, Granby, St. Albert, Norfolk, County, Medicine, Hat, Grande Prairie, Airdrie, Halton, Hills, Port, Coquitlam, Fredericton, Blainville, Saint-Hyacinthe, Aurora North, Vancouver, Welland, North Bay, Belleville, Mirabel, Province, Ontario, Quebec, Nova Scotia, New Brunswick, Manitoba, British Columbia, Prince Edward Island, Saskatchewan, Alberta, Newfoundland and Labrador,
Alabama, Alaska,Arizona,Arkansas,California,Colorado,Connecticut,Delaware,Florida,Georgia,Hawaii,Idaho,Illinois,Indiana,Iowa,Kansas,Kentucky,Louisiana,Maine,Maryland,Massachusetts,Michigan,Minnesota,Mississippi,Missouri,Montana,Nebraska,Nevada,New Hampshire,New Jersey,New Mexico,New York,North Carolina,North Dakota,Ohio,Oklahoma,Oregon,Pennsylvania,Rhode Island,South Carolina,South Dakota,Tennessee,Texas,Utah,Vermont,Virginia,Washington,West Virginia,Wisconsin,Wyoming
AL,AK,AZ,AR,CA,CO,CT,DE,FL,GA,HI,ID,IL,IN,IA,KS,KY,LA,ME,MD,MA,MI,MN,MS,MO,MT,NE,NV,NH,NJ,NM,NY,NC,ND,OH,OK,OR,PA,RI,SC,SD,TN,TX,UT,VT,VA,WA,WV,WI,WY
Montgomery,Birmingham,Juneau,Anchorage,Phoenix,Little Rock,Sacramento,Los Angeles,Denver,Hartford,Bridgeport,Dover,Wilmington,Tallahassee,Jacksonville,Atlanta,Honolulu,Boise,Springfield,Chicago,Indianapolis,Des Moines,Topeka,Wichita,Frankfort,Louisville,Baton Rouge,New Orleans,Augusta,Portland,Annapolis,Baltimore,Boston,Lansing,Detroit,St. Paul,Minneapolis,Jackson,Jefferson City,Kansas City,Helena,Billings,Lincoln,Omaha,Carson City,Las Vegas,Concord,Manchester,Trenton,Newark,Santa Fe,Albuquerque,Albany,New York City,Raleigh,Charlotte,Bismarck,Fargo,Columbus,Oklahoma City,Salem,Portland,Harrisburg,Philadelphia,Providence,Columbia,Charleston,Pierre,Sioux,Falls,Nashville,Austin,Houston,Salt Lake City,Montpelier,Burlington,Richmond,Virginia Beach,Olympia,Seattle,Charleston,Madison,Milwaukee,Cheyenne
chat, donner, eleveur, éleveur, de, à, vendre, prix, maladie, combien, coute, un, adulte, bleu, blue, point, brown, tabby, black, silver, mackerel, beauty, caracal, roux, caractère, et, élevage, allergie, education, froid, fleuve, golden, gris, husky, huskies, puppies, sale, blanc, health, price, iris, ice, intervention, diamond, kijiji, lespacs, kitten, loof, loup, kennel, chatterie, martin, malamute, noir, neva, nevamasquerade, neva masquerade, nom, name, ou, maine coon, norvegien, poids, prénom, roux, seal, samoyed, shepherd, tiger, usa, alaskan, wikipedia, xmas, x, chow, yes, yeux, bleu, blue, eyes, sibérienne, synonyme, appartement, maison, arctique, smoke, Canada, dog, express, en, girl, kitty, le, mastiff, male, femelle, female, non, oui, poids, pas, cher, qui, red, russe, russie, race, tortie, tradiionnel, traditionnal, acheter, adopter, qualité, santé, video, photo, virus, siberiennes, sibériennes, wamiz, youtube, you, tube, marron,